Small Steps to Weight Loss Tips: Day 1
Welcome to Day 1! Before we start your first small step tip, do a favor for me now:
1. Go stand in front of a mirror.
2. Hug yourself.
3. Say out loud, "I will praise you, for I am fearfully and wonderfully made. Marvelous are your works and that my soul knows very well" (Psalm 139:14)
4. Now, say it again like you mean it.
Why did I ask you to do that? Because I want you to start this process with love and gratitude. Every time you take action, you quiet that negative voice that tells you that you can't do this. Action proves you can. So be patient and start stepping.
Let your actions speak for you.
He who is faithful in what is least is faithful also in much; and he who is unjust in what is least is unjust also in much. (Luke 16:10)
One more thing: For this 31 days, I want you to focus on taking action, not obsessively monitoring the scale. Give yourself a break. You didn't gain the excess weight overnight and you won't lose it overnight. But you can lose it – a few ounces at a time.
Your first step is to drink 2 cups of water. Don't listen if that negative voice tells you this small step won't help. Every positive step moves you forward.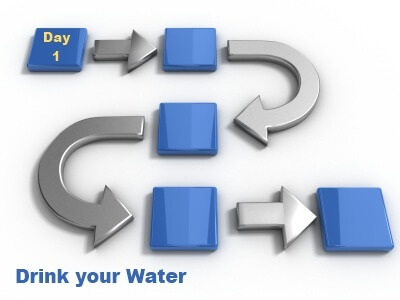 Take this step in faith. Now get a glass and fill it up with 2 cups of water. Now, place that glass beside your bed.
When you first wake up in the morning, drink that glass of water. Think of this as a shower for your insides! Every night, be sure to put your glass of water by your bed so you can drink it first thing in the morning. Just this simple act of self-care demonstrates love to yourself. That love will keep you moving forward.
Complete one step per day. You can do this!
Take the poll below and share your feedback on how you did it and what you learned.

[merlic_poll id="1486"]