Small Steps to Weight Loss Tips: Day 26
Let's have some fun by playing a game on Day 26 ! Throughout this process, you've learned that it is human nature to want to finish everything on your plate. For this reason, I've recommended that you be wise about how much food you set before yourself in the first place.
To help reinforce what a normal portion size is so you can patrol those portions, let's play a game. I discovered this one on the Prevention.com website. Today's recommendation is simply to play the game.
Click the picture below to begin: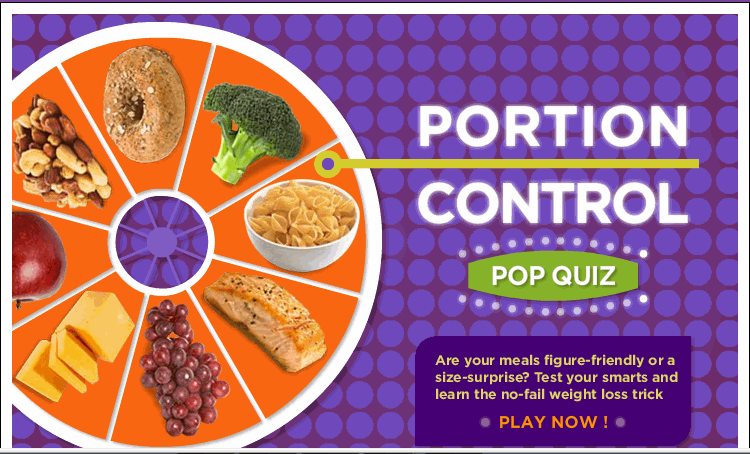 Studies show that we tend to eat 92% of what is on the plate. The question we subconsciously ask ourselves to determine whether to stop eating is, "Have I finished my food?"
So forget about serving yourself a large portion and expecting yourself to exercise self-control not to finish it. The odds are stacked against you. So again – exercise wisdom, fix yourself a normal portion from the start, and your waistline will start to normalize accordingly.
Continue practicing your routines:
Morning Routine
Drink 1 glass (16 oz) of water
Take your multivitamin and Omega 3 supplement
Do 10 minutes of stretching before shower
Eat breakfast with protein
Practice portion patrol
Practice mindful eating
Mid-Morning Routine
Drink 1 cup of green tea with lemon
Eat a high fiber fruit or protein snack
Practice portion patrol
Practice mindful eating
Do 10 minutes of desk, commuter, or other strength-building exercise
Midday Routine
Drink 1 glass (16 oz) of water
Eat a balanced lunch (1 serving of protein, starch, and vegetables each)
Practice portion patrol
Practice mindful eating
Do 10 minutes of HIIT exercise
Afternoon Routine
Drink 1 cup of green tea with lemon
Eat a high fiber fruit or protein snack
Practice portion patrol
Practice mindful eating
[merlic_poll id="1755"]