Small Steps to Weight Loss Tips: Day 29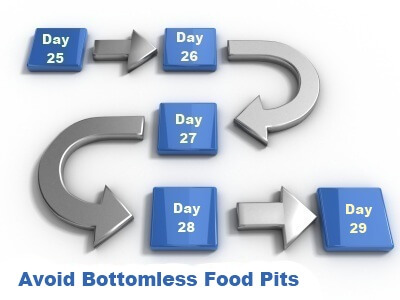 Welcome to Day 29! Throughout these tips, I've emphasized the biblical principle of evaluating the food that is set before you (see Proverbs 23:1-3). In particular, being careful about the amount that is set before you since you will likely eat 92-100% of the amount.
Today's tip is designed to help you avoid what I call 'Bottomless Food Pits'. Have you ever had the experience of sitting down to watch T.V. with a bag of buttered popcorn or potato chips in hand, and then found yourself reaching into an empty bag a short while later? If so, then you fell into a bottomless food pit.
Below are some examples and how to deal with them:
Jumbo sized tubs/bags of popcorn: Even though you say you are going to share these with everyone else at the movies, somehow it winds up parked in your lap. Instead, buy everyone their own box and make sure yours is the smallest size available. Also, order the regular buttered popcorn, not the extra buttered kind. You will find that the regular style is buttery enough by itself.
Super-sized fast food meals: If you must go to a fast food restaurant, pass up the super size meals. Get the regular or junior sizes. You will still get the flavor without the extra calories. Remember the saying, "Super size your meal, super size yourself."
Whole takeout pizzas: Avoid parking the open box in front of you and eating directly from it. Instead, take out a piece and put it on a plate, close the box and put the box in the kitchen. Fix a salad or steamed vegetables to go with your piece of pizza. You will satisfy your hunger pangs equally as well with fewer calories.
Bags/boxes of snack foods (potato chips, crackers, nuts, etc): Avoid eating directly from a large open bag, can, tub, or box. Instead, check the serving size on the back and get that amount. Put your serving on a plate, and then put the bag (can, tub, or box) back in the cabinet.
Eat the designated amount and check yourself. Are you still hungry? If so, then you probably should make yourself a healthy mini-meal to better satisfy your hunger.
Leftovers: After dinner is served, put leftovers away immediately. Otherwise the sight of the food might prompt you to eat when you aren't hungry.
Small bites add up: even one bite of a casserole can give you 50 calories. Multiply that by 6 bites and you can see how that amount can equal the calories in an entire meal.
So patrol those portions, especially when it comes to snack foods, and watch those pounds come off!
Let's continue our established routines today:
Morning Routine
Drink 1 glass (16 oz) of water
Take your multivitamin and Omega 3 supplement
Do 10 minutes of stretching before shower
Eat breakfast with protein
Practice portion patrol
Practice mindful eating
Mid-Morning Routine
Drink 1 cup of green tea with lemon
Eat a high fiber fruit or protein snack
Practice portion patrol
Practice mindful eating
Do 10 minutes of desk, commuter, or other strength-building exercise
Midday Routine
Drink 1 glass (16 oz) of water
Eat a balanced lunch (1 serving of protein, starch, and vegetables each)
Practice portion patrol
Practice mindful eating
Do 10 minutes of HIIT exercise
Afternoon Routine
Drink 1 cup of green tea with lemon
Eat a high fiber fruit or protein snack
Practice portion patrol
Practice mindful eating
Evening Routine
Drink 1 glass (16 oz) of water
Eat a veggie-rich dinner (1 serving of protein, 3 servings of vegetables)
Practice portion patrol
Practice mindful eating
Do 10 minutes of HIIT exercise
[merlic_poll id="1787"]