Small Steps to Weight Loss Tips: Day 3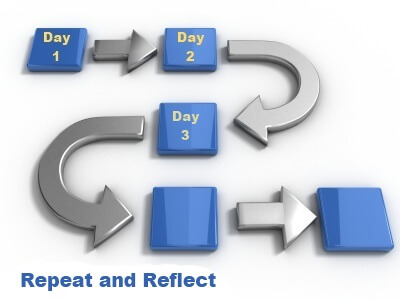 On Day 3, you will repeat what you did on Days 1 and 2. Don't worry – you aren't standing still. You are moving forward by creating a routine to make weight loss automatic for you.
So far, your morning routine looks like this:
Drink 1 glass (equivalent to 2 cups) of water upon arising
Do 10 minutes of stretching
In addition to repeating these two steps, I want you to use today to reflect on this question: "What would does your ideal day look like once you are healthier?"
Get a piece of paper and write down that vision. Be very specific: How will your daily life be different? What will you be able to do then that you can't do now? What will you feel then that you don't feel now?
This exercise is designed to increase your desire for your goal. When your heart is in your vision, then you will be willing to do whatever it takes to make it happen.
Each step you take in this challenge is designed to get you closer to that vision.
However, if you are only half-hearted about taking the steps, then you are setting yourself up for a fall. You won't give it your best effort. The wise thing to do then is to be honest with yourself and decide that you will wait to continue the challenge until you can put your whole heart into it.
Keep your heart with all diligence, For out of it spring the issues of life. (Proverbs 4:23)
So today, do a heart check and reflect. If you are willing to keep moving forward then promise yourself that you will see this through until you succeed. Success is yours – one small step at a time. It's time to go for it!
Take the poll below and share your feedback on how you did it and what you learned.

[merlic_poll id="1529"]