Small Steps to Weight Loss Tips: Day 30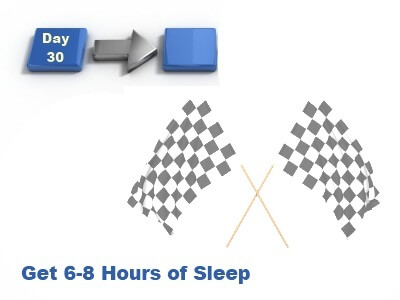 On Day 30, let's evaluate your bedtime routine. Are you routinely getting 7-8 hours of quality sleep every night? If not, you could be hurting your weight loss efforts.
When you are sleep deprived, your body makes less of the hormone Leptin, which is the hormone that tells you to stop eating. So if you are routinely overeating, it could be in response to decrease in Leptin levels as a result of lack of sleep.
If you are having problems getting adequate sleep, check out these healthy sleep tips from the National Sleep Foundation.
In addition to hurting your weight loss efforts, you will not be able to function and enjoy life to its fullest if you are not getting adequate sleep and rest. Each day is precious; make sure that you recharge those batteries every day so that you stay alert and ready to handle challenges with grace and creativity.
Now, we'll complete our weight loss routine by adding the steps to your bedtime routine, which helps you start tomorrow off right:
Morning Routine
Drink 1 glass (16 oz) of water
Take your multivitamin and Omega 3 supplement
Do 10 minutes of stretching before shower
Eat breakfast with protein
Practice portion patrol
Practice mindful eating
Mid-Morning Routine
Drink 1 cup of green tea with lemon
Eat a high fiber fruit or protein snack
Practice portion patrol
Practice mindful eating
Do 10 minutes of desk, commuter, or other strength-building exercise
Midday Routine
Drink 1 glass (16 oz) of water
Eat a balanced lunch (1 serving of protein, starch, and vegetables each)
Practice portion patrol
Practice mindful eating
Do 10 minutes of HIIT exercise
Afternoon Routine
Drink 1 cup of green tea with lemon
Eat a high fiber fruit or protein snack
Practice portion patrol
Practice mindful eating
Evening Routine
Drink 1 glass (16 oz) of water
Eat a veggie-rich dinner (1 serving of protein, 3 servings of vegetables)
Practice portion patrol
Practice mindful eating
Do 10 minutes of HIIT exercise
Bedtime Routine
Place 1 glass (16 oz) of water and your vitamins bedside for morning
Get 7-8 hours of sleep each night
[merlic_poll id="1792"]