Small Steps to Weight Loss Tips: Day 31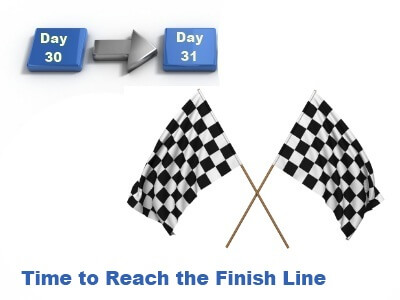 You've reached Day 31 – the last of the Beginner Small Steps to Weight Loss Tips. Congratulations! I applaud you for your commitment to taking these steps to reach your ideal weight and live a healthy lifestyle.
This last tip is a key ingredient for successful weight loss but unfortunately it is the one thing that many people are not willing to give – time.
It takes time to create good habits and practice them long enough for your body to show the results. Time is going to pass anyway. Why not pass the time taking steps toward your dream? And the only time you have to give the process is today.
Focus on one day at a time, one step at a time. As Jesus advised:
Therefore do not worry about tomorrow, for tomorrow will worry about its own things. Sufficient for the day is its own trouble (Matthew 6:34)
This process is not about living a diet – it's about living your life. Do the best you can with what you already know now and you will get results.
The complete daily weight loss routine is below. A motivational speaker once said that "The success of your dreams lies in your daily routine."
You can download the Small Steps to Weight Loss Daily Checklist below to make this easier. Just right-click on the link below and save it to your computer. The checklist is in Adobe PDF form. I'd recommend you print out the checklist and post it on your refrigerator and/or at work.
You can simply check off each step as you take it. It will help to keep you accountable and you can see whether you are following through more easily.
Small Steps to Weight Loss Daily Checklist
I believe in you. Now give yourself time to get to the finish line. And keep stepping!
Morning Routine
Drink 1 glass (16 oz) of water
Take your multivitamin and Omega 3 supplement
Do 10 minutes of stretching before shower
Eat breakfast with protein
Practice portion patrol
Practice mindful eating
Mid-Morning Routine
Drink 1 cup of green tea with lemon
Eat a high fiber fruit or protein snack
Practice portion patrol
Practice mindful eating
Do 10 minutes of desk, commuter, or other strength-building exercise
Midday Routine
Drink 1 glass (16 oz) of water
Eat a balanced lunch (1 serving of protein, starch, and vegetables each)
Practice portion patrol
Practice mindful eating
Do 10 minutes of HIIT exercise
Afternoon Routine
Drink 1 cup of green tea with lemon
Eat a high fiber fruit or protein snack
Practice portion patrol
Practice mindful eating
Evening Routine
Drink 1 glass (16 oz) of water
Eat a veggie-rich dinner (1 serving of protein, 3 servings of vegetables)
Practice portion patrol
Practice mindful eating
Do 10 minutes of HIIT exercise
Bedtime Routine
Place 1 glass (16 oz) of water and your vitamins bedside for morning
Get 7-8 hours of sleep each night
[merlic_poll id="1799"]