Small Steps to Weight Loss Tips: Day 4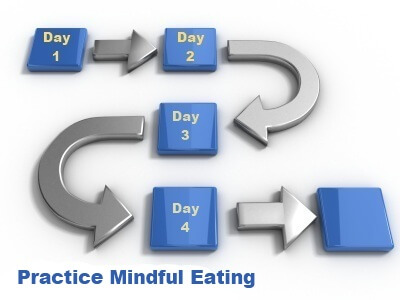 Welcome to Day 4! Today's step will help you slow down and enjoy your food. Mindful eating is the key.
Too often, we woof down our food so fast that we barely taste it. When we eat unconsciously, we tend to eat more.
So eat your breakfast mindfully today. You only need to practice this for one meal to start. If you are reading this after breakfast, just do it at your next meal. Take a bite of food and put your fork or spoon down between each bite. Really taste what you are eating, savoring the flavor. Take a deep breath and focus on the experience of eating. Don't pick up your fork or spoon with more food until you have swallowed what is in your mouth already.
As you eat this way, pay attention to your stomach's fullness level. Your brain's natural appetite stabilizer (the Appestat) takes about 20 minutes to know when you've had enough to eat. So when you eat at a less frenzied pace, you increase the odds that you will eat the appropriate amount for your body's needs.
What if your body is telling you that you are full, but there is still food left on your plate? Then wrap up the remainder (if you want it) and put it in the refrigerator for later. If you are nervous that someone else might eat it, then put your name on it. Saving your food for later may also help quiet the 'you're wasting food' guilt messages from childhood when you didn't eat everything on your plate.
When you create a habit of eating with self control, your body should be able to find its best weight naturally over time. Eating mindfully is your first step to doing that.
Keep drinking your 1 glass of water and doing your 10 minutes of stretching in the morning.
Take the poll below and share your feedback on how you did it and what you learned.

[merlic_poll id="1533"]