Small Steps to Weight Loss Tips: Day 9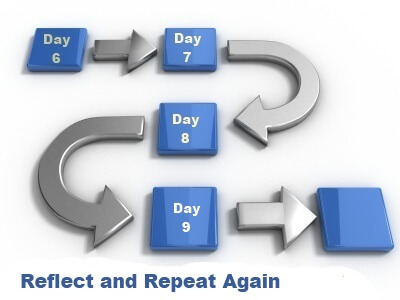 Welcome to Day 9! Today is a Repeat and Reflection day. Just as before, you'll repeat the habits that you have learned about so far.
The goal of days like this is to reinforce good habits while creating a plan to adjust those habits that aren't working for you.
You'll also need to get a few things from the grocery store to prepare for the coming week, but we'll discuss that more in a moment.
First, repeat your morning routine today:
Drink 1 glass (16 oz) of water
Take your multivitamin and Omega 3 supplement
Do 10 minutes of stretching before shower
Eat breakfast with protein
Practice portion patrol
Practice mindful eating
Next, take out a piece of paper and write down the answer to these questions:
What is going well with your Small Steps weight loss plan?
What habits do you need to adjust at this point?
What will you differently to adjust?
Lastly, you will make some small changes to what you are currently eating. You may already have these but if you don't then you will need to obtain them from the grocery or dollar store:
Green Tea
Lemon juice
Stevia (a natural low calorie sweetener) or Honey
3 pieces of fruit or cans of fruit cocktail in its own juice
Assortment of vegetables (fresh or frozen) or Low Sodium V-8 juice
Here's a recommendation on the fruits and vegetables: Make those fruits and vegetables ones you like or are willing to try. There is no need to try to choke down foods you  don't like. You want a happy medium: eating good food that is good for you. Now, don't rule out a food just because you didn't like it as a child. Taste buds change. I refused to eat anything green when I was a child but now I love green vegetables. So be willing to test out your tastes as an adult.
Here's another tip: To save money on fruits or vegetables, you might check what is available at your local dollar store. Some of them have frozen food sections and have bags of fruits or vegetables for $1.
To get some ideas of fruits or vegetables you are willing to try, check out this link. This site is great – it's got videos, ideas on fruit and vegetable storage, and recipes:
[merlic_poll id="1596"]